Currently viewing the category: "News"
Earlier this year, Ted Baker commissioned a group of illustrators to create "A Baker's Dozen" of hand-signed prints.
Matchmakers, the Association of Illustrators brought the collaboration together as each of us were assigned an iconic British pastime to illustrate.
I was assigned camping & caravan parks which is a little coincidental as I'm quite into that myself (camping, not caravanning I hasten to add).
Ted Baker were a fantastic client – presenting such a fun brief to work with and allowing the illustrators the freedom to take the concept where we wanted.
To document the process, Ted visited my studio to film how I put the work together and they created the following film.
I'm going to do a detailed guide to how the image was made and I'll post it soon.
1000 lithographic prints, hand-signed & embossed were created in addition to A5 prints that will be available to Ted's online customers. The prints will be dispatched to over 200 worldwide locations, including Australia, Japan, China, the Middle East, North America and Europe.
Ted Baker has a growing reputation of supporting illustration after their recent Ted's Drawing Room. Customers could get their portrait drawn by 1 of 11 illustrators  in a photobooth-like promotion. They have also sponsored the recent Images 36: Best of British Illustration award ceremony.
The campaign launches in-store on Thursday 18th October, 2012.
A special thank you to Fiona Smith at the AOI for tirelessly coordinating the project.
Ted's Baker's Dozen
The Association of Illustrators article
---
"Ted Baker were a fantastic client – presenting such a fun brief to work with."
---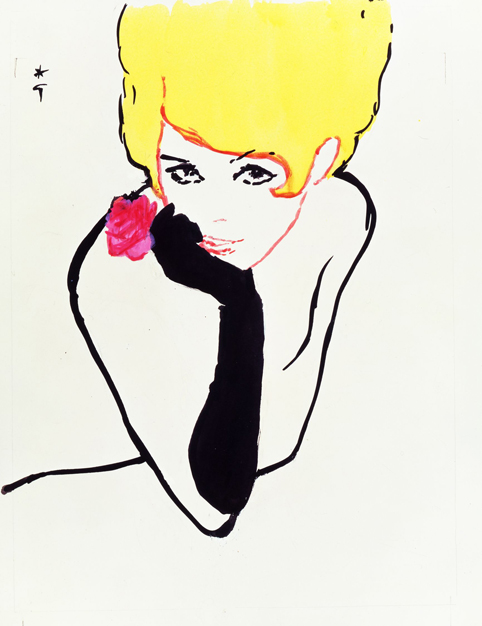 Got to the Dior Illustrated – René Gruau & The Line of Beauty show last night. With my fashion design background, how could I not like these iconic pieces that were the face of Dior advertising from the mid 50′s right into the 1980′s. The show is curated in order of campaigns / fragrances and included some of Gruau's most iconic work.His loose, free lines and use of negative space have stuck in my mind since way back when we practiced illustration during my degree (and even beyond that). The ability to gesture the curves of a leg, from hip to toe in one fluid stroke is a talent in itself try it, I promise you – you'll struggle. Bold lines to visualise such delicate forms, so effectively.Admittedly a few of the pieces do look a little dated now but surely that is the nature of fashion as an art? On a whole, it is a collection of timeless classics.
John Galliano was quoted "To be inspired by Dior is to be inspired by René Gruau" and I have to agree. Simplicity, femininity and sophistication, united by these two close friends through illustration and fashion.
Make sure you visit Somerset House before 9th of January.
At the beginning of the month I took a trip to  Ireland, principally for the Offset Conference, Dublin. A high calibre of guest speakers made it almost impossible to find a session worth missing. U.S. heavyweights such as George Lois, Gary Baseman, David Carson stood alongside more contemporary European names (Emily Forgot, Alan Clarke, Studio AKA).
Gary Baseman's anarchic tendencies in front of a microphone became all too apparent in his Q&A session. Within 5 minutes he had himself and  interviewer, Irish illustrator Steve Simpson, wearing masks of his characters click here to see. And inferred that the timing of him smuggling his sidekick toy Toby into the Vatican for a photo and the death of the late Pope, was more than coincidental.
Wired Magazine Creative Director Scott Dadich enlightened us with the process of bringing Condé Nast's portfolio into the digital age, rolling their magazines out in iPad application format.
Steven Heller gave historical insight, while Lance Wyman recalled the process of branding the Mexico '68 Olympics. Alan Clarkewas as humorous as his illustrative work.
Probably the highlight of the weekend was Art Director George Lois frank presentation and even more candid Q&A session. His hilarious impersonation of Andy Warhol had the audience in fits of giggles as he recalled the tale of convincing the artist to feature on on of his many iconic Esquire covers, drowning in a giant tin of Campbell's Tomato soup.
I do hope the conference returns next year – perhaps with a little less hectic schedule to give a little more time to network. If you are a graphic designer, illustrator, or anyone involved in the creative industry and you missed out, make sure you keep your eye out for this one in the future.