Currently viewing the category: "Editorial"
Congratulations to Great Britain's first medal of the games, Lizzie Armitstead and to celebrate, here is an Olympic illustration of her.
With Emma Pooley fighting a terrier like battle in the climbs of Boxhill, it was left to Lizzie Armistead to chase down a Russian breakaway from Olga Zabelinksaya.
Merckx Vos from Holland followed here and managed to steal gold in a thrilling (and also very wet) end to the women's street race.
Lost in London is a new publication for country loving city dwellers and anyone yearning for a simpler life. I produced an editorial illustration for their latest issue.
Published to coincide with the beginning of each season, Lost in London guides readers through urban sanctuaries of grass, trees and fresh air away from the smoke.
This independent magazine – co-produced by Lucy Scott and Tina Smith – provides a unique take on life in the city, both in words and pictures.
Threaded throughout each issue is a series of photography and illustration portraying the city's hidden charms and rustic character, as London based artists provide a visual response to the city.
It was an interesting brief, to portray the positive side of something that would generally be looked upon in a negative way. I liked the idea of these insects flocking to their urban oasis almost as if they were commuters in rush hour.
Their bright colours detract from the grimy perception we associate with browfield sites and hopefully makes them more friendly (I myself have a fear of spiders afterall!)
Lost in London can be found in Tate Modern, Natural History Museum, Magma, Rough Trade East and also from Lost in London direct by ordering online here.
Been a while since I added something to Illustration Friday.
A combination of painting in Photoshop, textured layers & colour halftone filter was used to create this piece called Jump.
I'm really into the illustrative work from the 40s & 50s, particularly that used in advertising. Illustrators like Allen Kass produced tons of images for romantic novels. Hopefully this style is conveyed in the over-saturated colours.
The image is inspired by some photos I took while travelling by boat around Tonlé Sap in Cambodia. The Great Lake is the largest freshwater lake in South East Asia and is home to both Cham and Vietnamese communities who reside in floating villages.
Illustration Friday is a weekly illustration challenge. A topic is posted every Friday and then participants have all week to come up with their own interpretation. Illustration Friday was created by illustrator Penelope Dullaghan. You can see her own work here.
Love them or hate them, we are definitely in the midst of some proper April Showers.
The April rain, the April rain,
Comes slanting down in fitful showers,
Then from the furrow shoots the grain,
And banks are fledged with nestling flowers;
And in grey shaw and woodland bowers
The cuckoo through the April rain
Calls once again.
The April sun, the April sun,
Glints through the rain in fitful splendour,
And in grey shaw and woodland dun
The little leaves spring forth and tender
Their infant hands, yet weak and slender,
For warmth towards the April sun,
One after one.
And between shower and shine hath birth
The rainbow's evanescent glory;
Heaven's light that breaks on mists of earth!
Frail symbol of our human story,
It flowers through showers where, looming hoary,
The rain-clouds flash with April mirth,
Like Life on earth.
"April Rain" by Mathilde Blind 1841-1896
Cassius Marcellus Clay, Muhammad Ali, The greatest of all time, celebrates his 70th Birthday
With a tongue that was as quick as his feet, the heavyweight boxing legend has gifted us with a barrage of humourous quotes to name a few;
"I'm so mean I make medicine sick"
"There's not a man alive who can whup me. I'm too fast. I'm too smart. I'm too pretty. I should be a postage stamp. That's the only way I'll ever get licked."
"If you dream of beating me, you'd better wake up and apologise."
Happy birthday Ali.
Here's an editorial Illustration I created for the independent food lifestyle magazine Eat Me.
The article In Betweeners, written by Chris Murphy discusses pallet cleansers. He used an analogy that their function in a meal is like having a  personal butler,
"it should look smart, brush away your crumbs and (this is universal of all courses) never answer back."
I thought that this could work quite well visually and so the idea progressed from there.
The magazine is distributed internationally through retailers such as WH Smith or you can by a digital version by clicking here.
I also created some work for their website that you can read about here.
Marine Insurance company Sieppel & Light commissioned me recently to create some cartoon illustrations.
This was a fun project if a little different from my normal work. Sieppel & Light wanted to connect with their market with an email campaign.
Their subject matter (personal injury) is something people would rather not think about, so they decided to approach it in a light hearted way.
The brief was to produce something that looked similar to the holiday postcards you find at the seaside. The client was also keen to take reference from Carl Giles, the well renowned British cartoonist who was better known for his work in the newspaper the Daily Express.
I loved Giles as a kid, my Dad collected his annuals and were a great inspiration. I recall at the time, copying his detailed cartoons. Giles was actually assigned by the Express to document the Coldstream Guards during World War II.
Traditionally in the paper the images had to be black and white and shading was conveyed with half-tone, something I was keen to recreated on the 3 images.
I recently completed this illustration for the online version of Eat Me, a new and vibrant food magazine.
Born in Spring 2010, Eat Me is a creative collective of journalists, photographers, artists, chefs, writers, hosts, quaffers and hungry souls.
The article by Posh Totty, is a restaurant review with a twist. Mixing business with pleasure, Posh doubles up her culinary visits with blind dates which more often than not, detract focus from the review.
You can read the article here.

I have to add comment to what started as a good-luck card to some friends who have made out an exciting new life in California, and tell you about the inspiration for this image.LeRoy Grannis (who sadly passed away last month) was regarded as the "
Godfather of surfphotography"
by The New York Times. His work optimised surf culture from the mid 40′s onwards.
In 2006, Tachen chronicled his work in a publication LeRoy Grannis, Surf Photography of the 1960s and 1970s. You can buy by clicking here.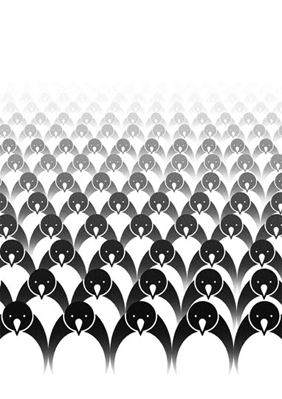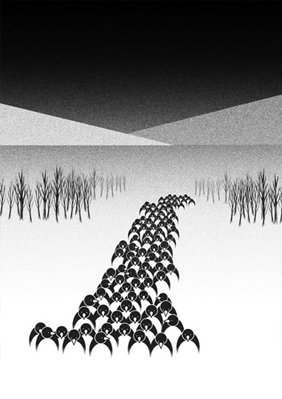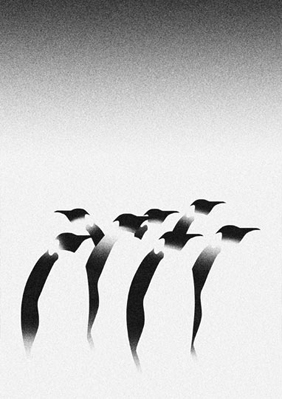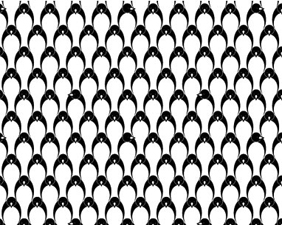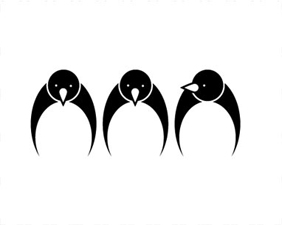 I've been a bit obsessed with penguins lately.
I have distinct memories of childhood holidays in Devon. After a day on the beach, sitting in front of a tiny TV and watching Jacques Cousteau's undersea adventures.
Jacques used a converted Royal Navy Minesweeper to use as his research boat. Named after Greek mythology's Calypso, the vessel housed a laboratory to carry out field research and included observation holes in its bow under the waterline.
Keep your eye out for more in this underwater series.
It's been a while since my last post as I have been working on an exciting pitch. Nonetheless, here is a portrait of one of my good friends caught on camera sometime ago.
I'm sure we have all played this game in the Autumn when we were kids (and perhaps also as adults). Stamp on the leaves and the loudest crunch is the winner!
This illustration is a combination of pencil drawings and scans of ink prints for textures. The leaves are real, I scanned them after picking them up in my local park. Finished in Adobe Photoshop CS3.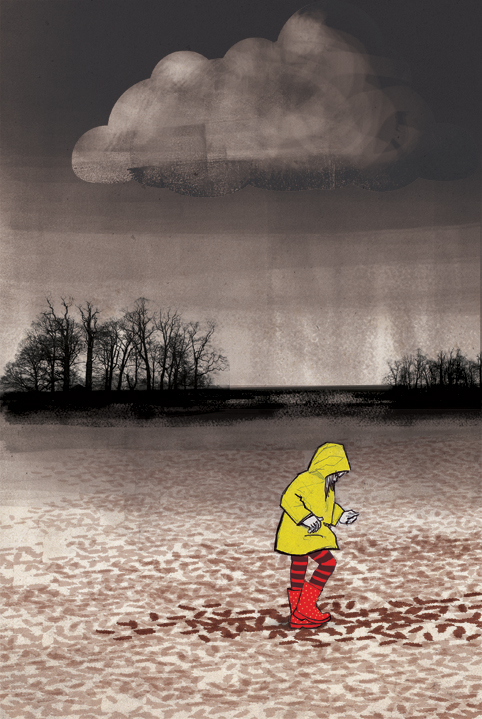 This week my studio has been transformed into a print room as I turn my hand to a skill I lasted used at art school some 16 years ago. It was time again to do a lino print.
I wanted to create an image that would be relevant as a Christmas card but also to stand up on its own as a print.
The Sketch
The first stage was to sketch out the image and then refine it to something that would be workable on the lino that I would be using to create a printing block.
Transferring the Image
This image was then in turn, transferred onto the lino ready for cutting.
Get a Second Opinion
My cat Iha was happy to oversee my progress.
Making the Print
Then the printing began. I rolled the mixed ink onto the lino with a rubber brayer, carefully placed the card or paper onto the lino, covered and applied pressure with a baren. Normally you would use a large printing press that acts just like a mangle, squeezing the paper against the lino but the baren is cheaper, saves space and keeps your arms in shape!
Second Colour
Once the first run was complete, I cut into the lino more, repeating the rest of the process for the second colour.
Drying
And there we have it, hung out to dry! The prints and cards will soon be available to buy online but in the meantime if you are interested in picking one (or some!) up, send me an email, I'd love to hear from you!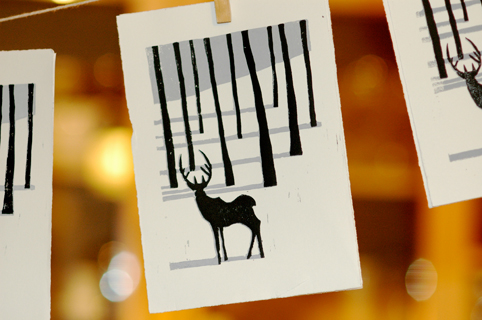 I have a very distant memory of our family having a reel to reel tape recorder when I was young. Of course us children couldn't go near a machine of such technology. So instead, I had to watch from afar as some responsible adult spent hours unravelling the mess they had made from getting another tape reel caught up in its mechanism. I used a combination scanned sketch and adobe illustrator to complete this illustration.
I am continuing with my cross-media technique for my latest illustration. Combining photography, hand drawing, collage and photoshop to create this final image of little red riding hood grown up.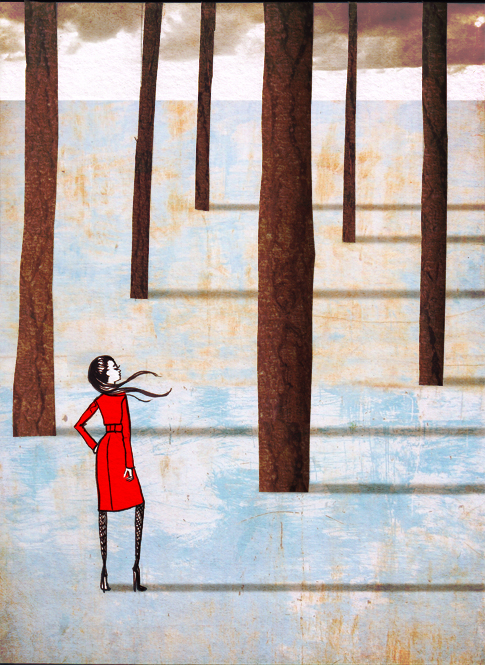 The nights have well and truly drawn in now and decorations are going up all over the place. With plans being made for the festive season, it is hard not to feel a little bit Christmasy. My recent piece of work has definitely a winter wonderland in mind. I have tried to again to look at an organic/ textured feel combining pencil sketch worked over in photoshop & illustrator.
It would be interesting to hear what you think about this softer, more nostalgic look when compared against my more graphic, and colourful style. Feel free to leave a comment, it would be great to hear from you!
Now where's that Bing Crosby album?
Starting to feel the chill as the seasons change, so Illustration Friday's subject this week seemed most appropriate.
It has always amused me when people fail to notice warnings particuarly in a world surrounded in health & safety bureaucracy. Signs and railings litter our roads & paths, yet people still somehow manage to navigate themselves into situations of peril.  Maybe we should be rid of all the street litter and let natural selection run its course?
Illustration Friday is a weekly creative outlet/participatory art exhibit for illustrators and artists of all skill levels. A topic is posted every Friday and then participants have all week to come up with their own interpretation. This week's topic is Caution.
I used a combination of hand drawing and Adobe Photoshop to create this image.
You can also see Illustration Friday's blog at http://illustrationfriday.com/
An incredible photographer inspired this piece of work.
Gemma Booth's work (in particular her fashion shots) has a warm, summery feel that reminds me of the hazy Californian sunshine. Her client list includes the likes of Paul Smith, i-D, Roxy & American Eagle.
You can follow her blog at.